Download and Watch Indian Movies
InkIE Address Bar 3.0
By Imran Qureshi (imranq2@hotmail.com )
New features since v2.0:
an "autocorrect" mechanism that uses your browser history and favorites list. so web sites you've been to are recognized much much better. (uses a background thread so does not slow down the launch of your browser)
now you can have inkie just show up on your desktop without running IE. so you can always have it and write addresses to go to. you can dock it to the top of your desktop so you always have it.
it listens to IE to see when the page in the browser has changed and updates the text in it.
leaves the text in the edit field so you can fix typos etc.
support intranet URLs.
you can copy and paste from the edit field. (using ctrl-c & ctrl-v). haven't implemented the right-click menu yet.
How to install:
1. Click here to copy the zip file for install: InkIESetup.zip (51KB)
2. Unzip and run InkIESetup.msi to install.
3. Launch Internet Explorer and go to View->Toolbars and turn on "Ink Address bar". (or click the "ink" button)
4. Now it should show up in your toolbars and you can drag and resize/move it as desired.
5. To show the inkie toolbar on the desktop, rightclick on the taskbar and choose Toolbars and then "inkie". You can drag the inkie toolbar to a more convenient place as needed. (note if the toolbar does not show up you may need to do restart your computer).
5. Use the standard Control Panel Add/Remove to uninstall this utility.
Reporting bugs & suggesting future enhancements:
For efficiency, please use the following discussion forum to report bugs and suggest enhancements: http://www.tabletpcbuzz.com/forum/topic.asp?TOPIC_ID=3576.
If you use it and find it useful, mention that in the discussion forum or send me mail so I have incentive to continue to improve this utility.
At present, the feature list of this v1 is locked because I want to get it stable so people can start using it. However, I'm also working on v2 in parallel so your suggestions will be added there.
Inkie in Internet Explorer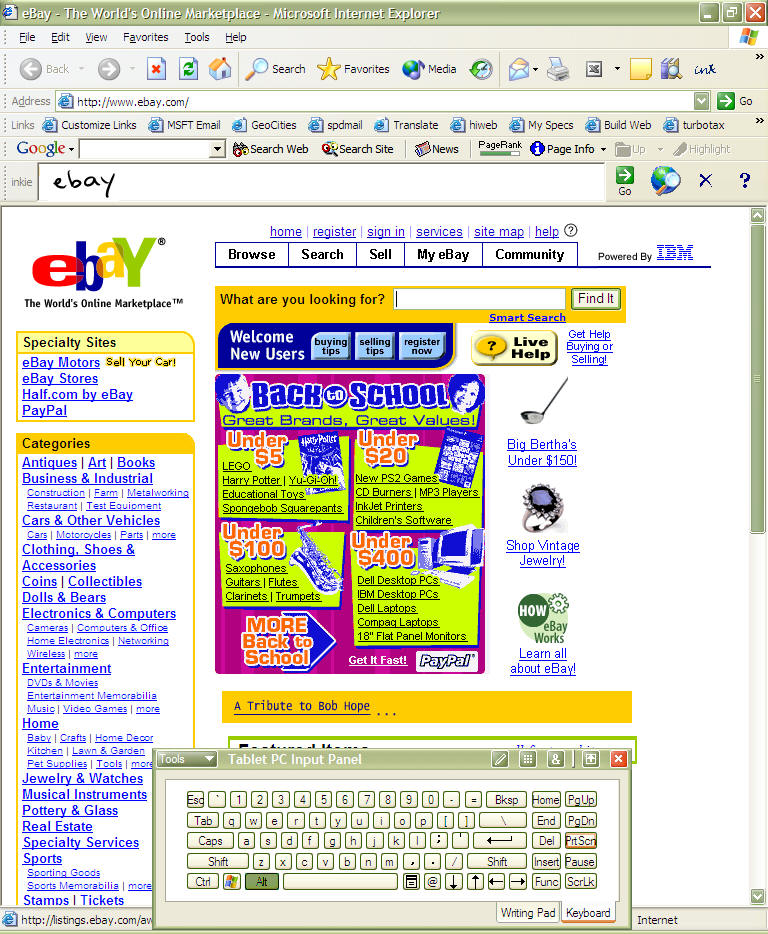 Inkie on the desktop
Technical details:
1. The primary goal for this utility was load speed and working set. Since IE is used so much any slowness in load time would not be appreciated.
2. This utility is written in C++ with straight Win32 calls. no MFC. No .NET framework. All these would increase the load time and working set.
3. It uses the ink recognition engine built into Windows XP Tablet PC.
5. The installer is the standard Windows installer.
www.masaladownloads.com